THE SONY VPL-VW95ES 3D PROJECTOR REVIEW


So here we are at the end of October with yet again another Sony projector. This time we are looking at the 90ES's replacement the VPL-VW95ES. While many speculated that this would be a 90ES with 30ES like 3D I still hung it with a complete open mind. I have to admit I do love the body style and finish of the 95. It truly does look elegant hanging from my ceiling about 14 feet back from my 120 inch screen. Of course there is nothing wrong with other "brand's" rectangle or box style projectors but there is just something I like about the Sony look. I had it up and going within minutes of carefully unwrapping it. Still using a Chief RPA-U (which has never let me down) I connected it to the Sony's 3 holes (pic below). The 95's built-in 3D emitter is around the lens which is where I taped (pic below) my MonsterVision 3D Sensor (more on that in the 3D section) since we have become huge fans of the Monster 3D glasses. Both stylish (like sunglasses) and comfortable they have won a spot in our theater! Not that we don't like the two pairs of Sony 3D glasses that do come with the 95. Since I mentioned "set up" let me start off by saying again like the 90 this 95 is sooooo quiet. Even when it opens its doors for the lens you can barely hear it. Now positioning the image in my screen was easiest it has ever been! Thanks to Sony's new Remote buttons. Perfectly place above the directional pad you have direct Focus, Zoom and Shift adjustments. Above those are the many picture modes (9 total). Of course I mainly use Cinema 1 for 2D Blu ray and Dynamic also for Blu ray 3D. Both connected to HDMI 2 on the 95 from my Oppo 93. I am a firm believer in Dual HDMI outs on my 3D Blu ray player. The less detours the better the image! I of course love Sony's Dynamic pic mode for sports.  Especially the NFL! Still nothing else has been able to equal the amount of POP that the Sonys have. Especially the ones with higher contrast like the 95! I also enjoy using Standard (pic mode) for general DirecTV viewing. And this year I am using the Game Mode with the Xbox 360. Absolutely stunning! All of these are fed from a DVDO DUO into HDMI 1. Here are some pics...



One thing that stood out a lot more than I expected was the SHARPNESS that I was able to see immediately. Even the set up menus have a little border around them that I have never seen before! And sharpness across the screen was dead on. I seriously do not know how much more of an improvement they can make from here. Letters from DirecTV's guide on the screen had razor sharp jaggies. How does this translate to real time viewing? Let's just say that watching Dexter (our favorite show) was jaw dropping with the opening. When that razor is cutting through the whiskers you can feel it! I have been asked by a few about bright corners. I will say using test patterns I was unable to detect any with both of the 95s I had here. Also the alignments were near perfect to perfect across the screen. Everyone would be totally fine with both of them...

           ​Sony's 3D glasses and accessories...

I almost forgot to finish my tour of the remote. So around the directional pad you have the usual Menu and Reset buttons. Now we also get a Position button. This allows you to store 5 different lens settings with a combination of focus, window size and window position. Pretty awesome! I like the quick direct button on the remote for this. So below the pad you get direct buttons for Wide Mode, Motion Enhancer and for 3D settings. Below them there is Color Space, Color Temp and RCP. Then you get Gamma, Black Level and Advanced Iris. At the very bottom there is Sharpness, Contrast and Brightness. Overall a very simple Remote that feels good in your hand. It lights up a nice blue! And per Sony we get the usual "around the horn" Input button...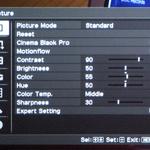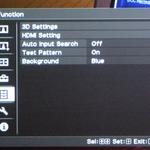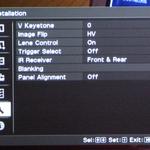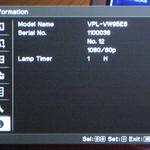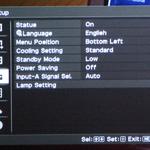 So as you can see the Intro to Dexter is top notch. Razor sharp! Actually so far all normal viewing programs have looked terrific. I really like the Motion Enhancer on Low these days. The movement is very fluid like while the slow side to side pannings are silky smooth. Even the most hard to please will have a hard time finding something to complain about. Colors are rendered spot on and hardly any tweaking is needed out of the box. Shadow detail is on par (or very close to) the best in the business. Black Levels, though not as deep as the JVC RS60 is still close enough to the point where you would be happier since you would be getting a definite "step up" with motion. It is very interesting how Sony keeps closing the gap with Black Levels while JVC still does not with Motion. The 95 is also Sharper than the JVCs as well as their own 90ES of last year. It is getting harder and harder to justify a JVC over the Sonys these days. Especially with their lamps (SDI) Sudden Dimming Issue. And this 95ES is the quietest projector I have had to date. You really have to make sure it's on. Even turning it on is whisper quiet. Unlike the JVCs which sound like an electric razor when first turning on. As you can see I am at a loss finding something wrong with the 95! I will keep searching...

So for DirecTV normal viewing I am using Standard pic mode with color space Normal (Wide 1 if you want to add more punch with the colors), Motion Enhancer on Low, Gamma 9 (even though I am fighting it out also between 4 and 6 depending on what is on), Black Level minus1, Auto Iris 1, Lamp on High, Sharpness 20, Color Temp Middle and Overscan set to Off. 

Letters are super clean and distinct. 

As nice as DirecTV looks I have to tip my hat even more for 2D Blu ray. Motion is even more solid and of course the image goes next level with an extra sharp, clean and just overall brilliant image. Whatever I put in looked even better the last time I viewed it with whatever projector I might have had at the time. I can always tell how much I am like a projector by how many older titles I dig up to view on it. For 2D Blu ray viewing I so far am liking Cinema 1, Lamp High, Auto Iris 1, Motion Enhancer Off (for regular movies and on Low for animation which should be viewed in Cinema 2), Color Temp Low 1, Sharpness 10, Gamma was at a default of 8 but for more "pop" bump it up to 9. Oh and Black Level minus 1 seems to be the sweet spot. Side to side pans are the absolute best I have seen them to date. I am concluding that the extra Sharpness makes it even more evident just how good it is. I hate to keep bringing it up but this is the Sharpest LCoS (SXRD) I have had to date. It definitely rivals the best DLPs available today.  I should also report that I was sending in 1080p/24 from the Oppo 93. Upconverted 12 bit Deep Color or 4:4:4 yeilded excellent results.

Now we get to my utmost favorite section. Those that read my Reviews know that I spend a lot of time checking out football. The NFL to be more specific. The Sonys are known for being the best for sports due to their POP and superior motion handling. I still have a smile on my face when I see the ball flying through the air and can still make out the laces. Other projectors seem to look more bland or dull in comparison to the Sony's vivid colors. I also like using either a DVDO Edge Green or DUO to send in PC Level (0-255) which really adds a punch to the image. The excellent contrast is much more evident in the field grass whether it be artificial or real! I love Dynamic with Wide 3 Color Space. Sharpness is at 30! Gamma so far this time I am favoring 7 with Black Level minus 2. I always liked Gamma 9 but for some reason just like 7 this year. Motion Enhancer set to High. Film Projection Mode 2 (extra contrast boost). Lamp mode high with either Auto Iris Off or 1. Contrast at default was at max but I bumped it off some. This time around I have included pics below of both action and still shots. Trust me when I say screen shots do not do the 95ES justice...


Now let's take a look at the 95ES and what it has to offer in terms of its 3D ability. As I mentioned before we have become huge fans of using MonsterVision 3D glasses. We can also use the Sony PJ1s at the same time. Also the older Sony models (BR250, BR100 and Youth BR50s) can be used but you will need to install a filter with those which can be obtained thru Sony. Simply put the 95ES is a step above the 90ES in 3D. Though mostly on par with the 30AES the 95 is still noticably sharper with much better depth that will also make the backgrounds stand out. I truly am at a loss each time I put in the famous IMAX Potato Cod Fish from Under The Sea or some of the scenes from Avatar. Also I am really liking the Toy Story Trilogy 3D! Woody and Buzz have never looked more lifelike. Of course some are wondering about Ghosting. I will say it has been minimal at worst. The 95ES exhibits hardly any with even the toughest titles. The Monster 3D glasses are not only the most comfortable but do yeild the best results. Brightness was not an issue for me either. I am soaking up plenty enough lumens to make my eyes happy! There is another feature on the 95 I am already loving. It is the option to have different Picture Positions saved. Since I like my Vutec Silverstar for mostly everything else and my Royalvision screen for 3D I can easily recall both screens exact image diameters by hitting the Position button on the remote. Very cool! And conveinant. You can set up to 5 different positions. Nice! On another note you also can use Sony's Motion Enhancer with 3D. Now that really adds to the 3D effect. I checked out quite a few titles. Sanctum, Thor, Final Destination, Piranha, the new Pirates, Monster House Lion King, Beauty and the Beast and a few more... No matter which title we played the clarity, depth and motion were top notch. The Sony 95ES is truly a double threat. A triple if you are a gamer! Kudos again to Sony for improving the 90's weakest link. By a lot! I use Dynamic pic mode with black level minus 1, white plus 1 and gamma 8. Color Temp HIGH, Color Space Wide 3. MotionFlow Low (or HIGH for animations) with everything else at default. Try them!

The 5 position memory screen settings 

So how does the 95 compare to current competition? Don't even ask me about the new Panasonic 7000 because it just isn't fair. And yes I have spent some good time with one. One thing is you can't detect the 95's Iris working at all. I tested Star Wars (part 4) opening scene and it passed with flying colors.  I already discussed the last gen of JVCs. I am on an order list to check out their new 55 when it shows up. I have a 90 here and a 30. Here's where it gets somewhat murky. The 90 though very good at 2D falls short since the 95 is quite a bit sharper. The 90ES misses by a lot when it comes to 3D. The 30AES comes somewhat close in 3D with a very bright image but just not close enough in sharpness and depth. Overall the 95ES simply is better. And I know someone will play the" it should card" because it costs more but to me it is definitely worth the price of admission. 

Sony says:The VPL-VW95ES 3D Full HD projector brings superb picture quality and an unsurpassed 3D home cinema experience. With an extremely high dynamic contrast ratio of 150,000:1, the VPL-VW95ES takes home cinema to the next level. Packed with exciting innovative features which are easy to use and control, the projector brings movies to life with vivid and vibrant imagery. I have to agree but would also add that this Sony brings 3D in your face while giving you front row seating for both movies and sports. Many said that it would be a 90 with better 3D. I am here to say that this is "The" 95ES. 

Sony's BR50s work very well with the little ones!

​Thanks again for reading my Review. If you are looking for a place to purchase your own 95ES feel free to call Noah at (630) 788 6624. His expertise will come in handy. Tell him JoeRod sent you. Call him today!

EQUIPMENT USED FOR ALL OR PART OF THIS REVIEW:  

​Sony VPL-VW95ES 3D Projector, 

Sony VPL-HW30AES Projector, Sony VPL-VW90ES 3D Projector, DirecTV HR24 500, DVDO DUO Video Processor, Monster Power HTS 5100, Panasonic BDT 310 3D Blu ray player, Onkyo BD-SP809 Blu ray player Onkyo TX NR 1009 Receiver/pre-pro, Emotiva UPA-1 AMP, Sherwood Newcastle A-965 7 Channel AMP, Antec Component Coolers, Vutec SilverStar 120.5" screen with a Carada Masquerade Masking System. Pinnacle Speakers- Center BD600, Heights BD500 OWs, Left and Right and Surrounds Super K555s and the KLCR for surround back. Subwoofers- Pinnacle Dig 600, plus four MTX Lolita Low Profiles. 7.6 Sound! Remotes: Harmony 1100. Monster M1000 Ultimate HDMI cables top to bottom.

CLICK 
HERE
 FOR MORE REVIEWS & TAKES!!! THANKS FOR READING!
Thanks also to my soon to be Wife Jaclyn for her continued support of my electronics "habit" which can be time consuming. 11-11-11 can't get here fast! I love you... : ) 

Next up: Integra DHC 80.3/Parasound HALO A51 Combo Review... 


3D Settings posted above....

CLICK HERE for the complete 95 specs and info from SONY...